Mini Hexagon Photo Tiles
Regular price

€35.00 EUR

Sale price

€20.00 EUR

Unit price

per
Which Print type should I choose?
Shipping and Delivery Info
Size: 10cm in width, 9 cm in height
Introducing the Hexagon Photo Tiles - The Minis: because your walls called and they're begging for a glow-up! 🌟
Say goodbye to boring, square frames and hello to hexagonal happiness! These pint-sized powerhouses of pizzazz are here to turn your space into a visual masterpiece. It's time to let your photos break free from the confines of traditional frames and embrace their edgy, six-sided destiny.
Why be square when you can be hexa-cool? These Hexagon Photo Tiles are like a mini gallery on your wall, adding a touch of modern whimsy to any room. Stick 'em, mix 'em, match 'em - the possibilities are as endless as your imagination!
Easy-peasy installation? Check. These tiles come with a peel-and-stick backing, making transforming your space a breeze. No more measuring, hammering, or squinting to make things straight. Just peel, stick, and admire your handiwork!
But wait, there's more! The hexagonal shape isn't just for show - it allows you to create unique patterns and arrangements that will have your guests saying, "Where did you get those fabulous photo thingies?" Spoiler alert: it's our little secret.
Made with high-quality materials, these Minis ensure that your memories shine bright and vivid. Plus, they're so lightweight that even your grandma could redecorate with ease (no offense, Grandma). And the best part? They're easily rearrangeable, so you can switch up your display whenever the mood strikes.
Upgrade your wall game with Hexagon Photo Tiles - The Minis. Because life's too short for boring walls! 🚀✨
Lights seen in the product images are for illustrative purposes only and are not included with this product.
Share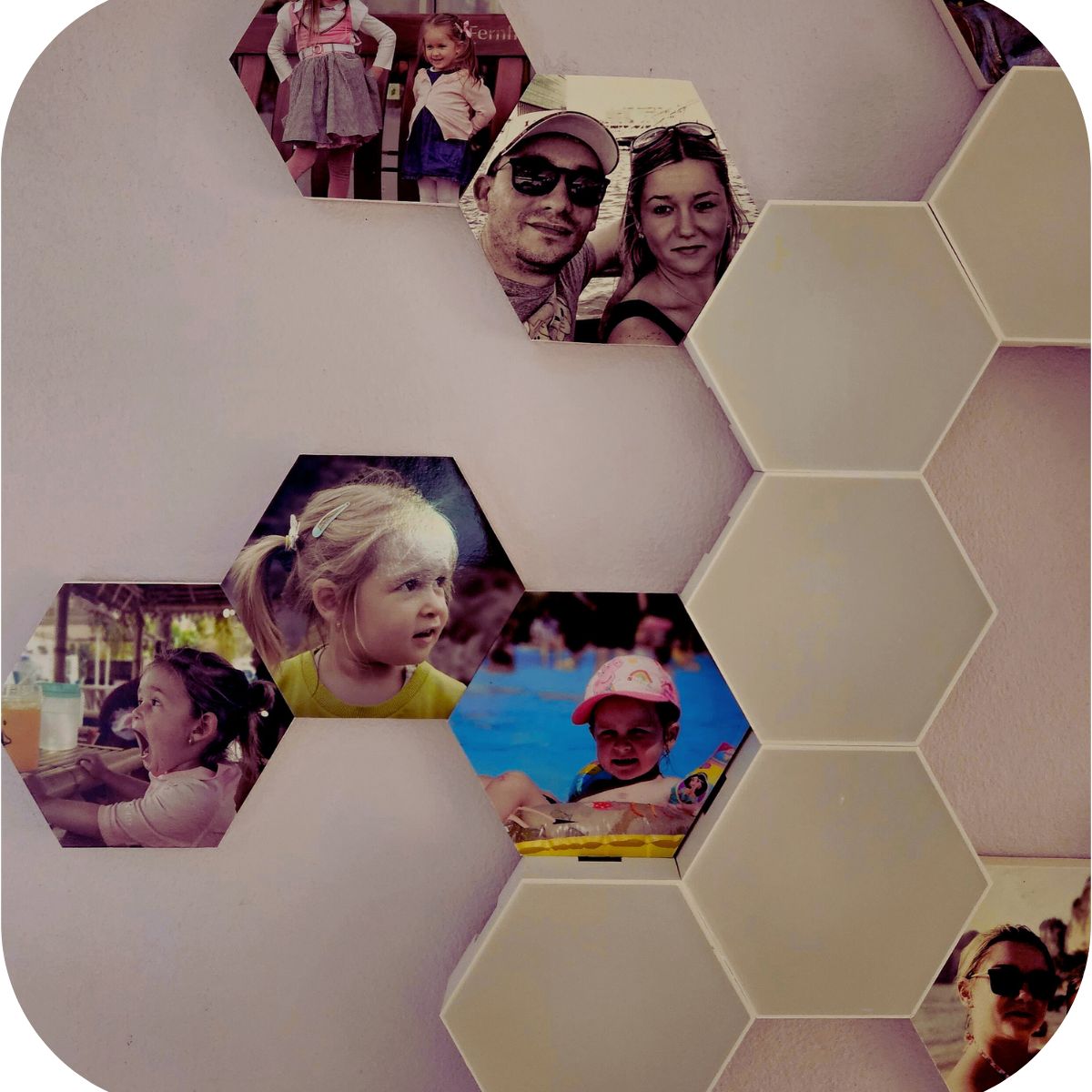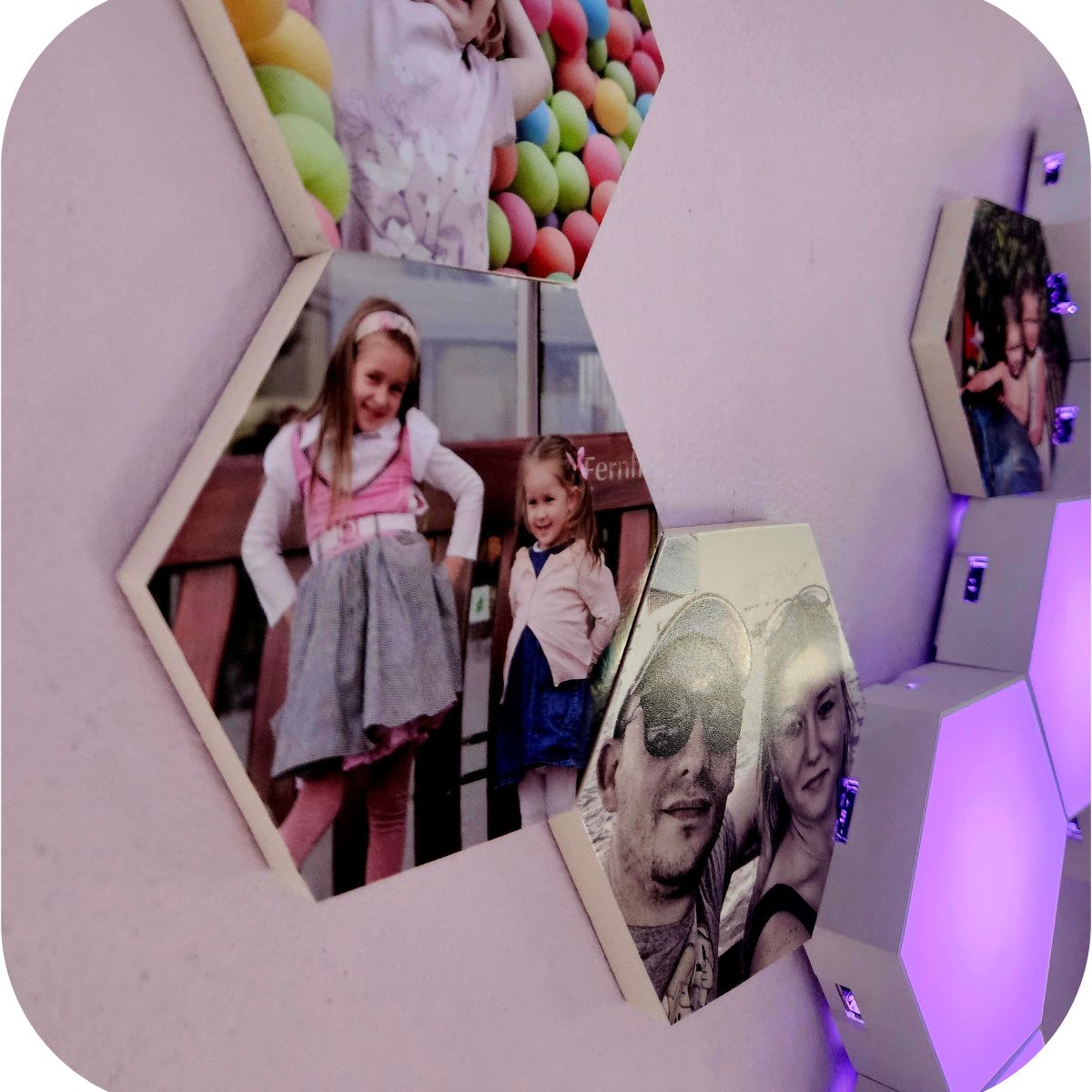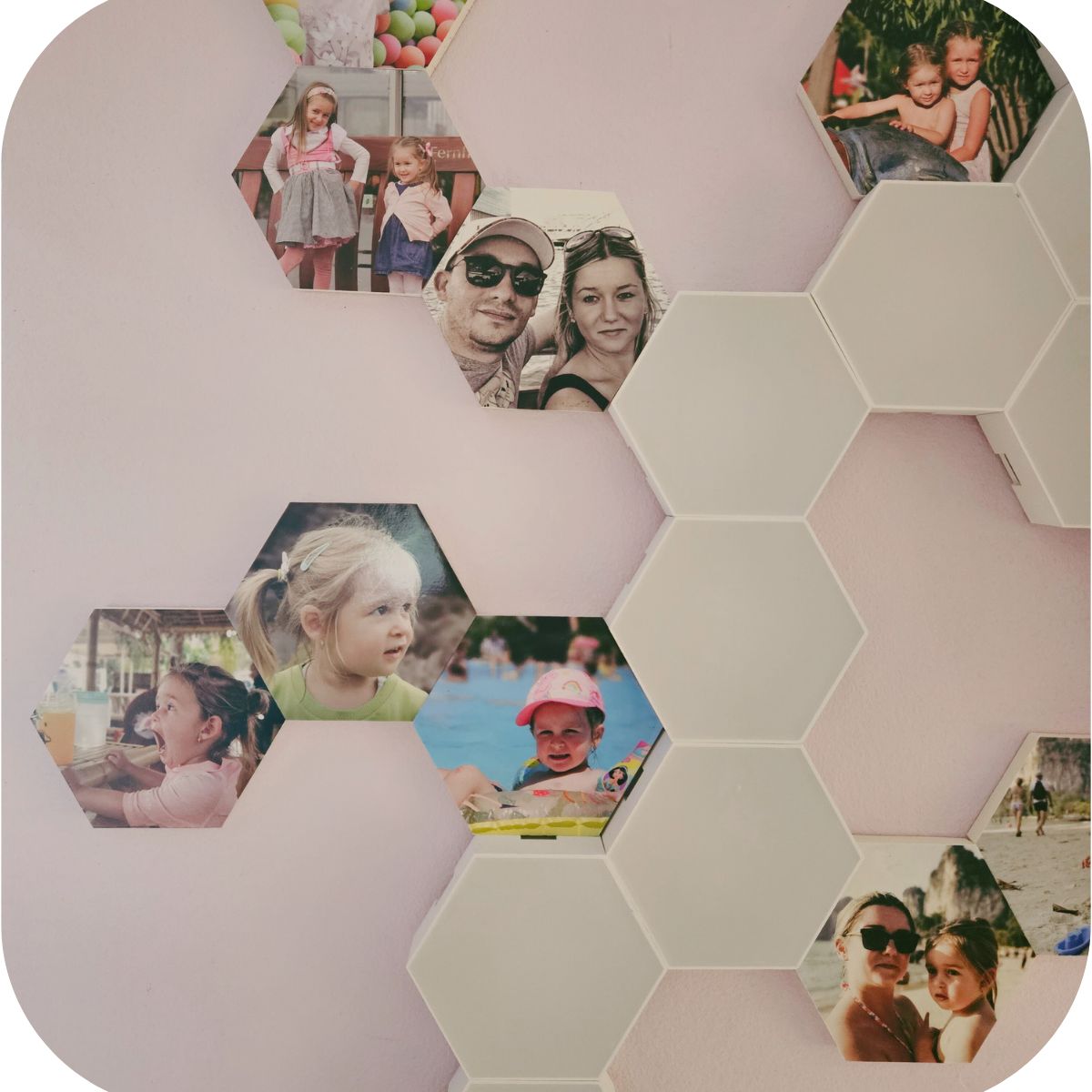 Which Print Type should I choose?
Premium Lustre Paper is a semi-shiny, slightly pebbled-textured photo paper that combines the durability and softness of matte paper with the shine and contrast of glossy paper. It provides a very professional look with excellent color and detail without reflecting too much light.
Advantages of Lustre Paper for Photo Tile Prints
Its semi-reflective surface makes it a versatile paper for many purposes.

Since it doesn't reflect that much light, you can hang it on a wall and see it from different angles without any distracting glare— perfect for galleries and decorative prints!

It provides smooth and accurate skin tones for portraits.

It's more resistant to fingerprints, blemishes, and scratches.

It looks professional.
Disadvantages of Lustre Paper for Photo Prints
It loses a bit of contrast and sharpness due to its pebbled texture.

The colors don't 'pop out' as much as with a glossy finish.
Glossy Photo paper is a popular type of photographic paper with a shiny and smooth coating, giving your prints a reflective, almost glass-like finish. It's the typical photo paper used to print your family photos in a regular lab.
Advantages of Glossy Paper for Photo Tile Prints
It provides crisp, striking images with high contrast.

It delivers vibrant colors, bright highlights, and intense blacks.

It has a smooth surface that preserves and enhances all the details of the photo.
Disadvantages of Glossy Paper for Photo Tile Prints
Can reflect a large amount of light and can be difficult to see from some angles depending on the light source in the room.

It's prone to hold fingerprints and marks.
Glossy photo paper with Lamination combines the Glossy photo paper with a clear glossy lamination film.
Adding lamination to the Glossy photo paper ads UV protection to your photo tile and added resistance to scratches and fingerprints.
Shipping and Delivery
All our products are made in Ireland and shipped from Ireland
Spend up to 45€, pay 7€ for delivery (7-14days)
Free Delivery for orders over 45
€ (7-14days)
Spend up to 45€, pay 9€ for delivery (7-14days)
Free Delivery for orders over 45
€ (7-14days)
Spend up to 45€, pay 10€ for delivery (7-14days)
Free Delivery for orders over 45
€ (7-14days)
Spend up to 45€, pay 10€ for delivery (7-14days)
Free Delivery for orders over 45
€ (7-14days)
Spend up to 45€, pay 9€ for delivery (7-14days)
Free Delivery for orders over 45
€ (7-14days)
Spend up to 45€, pay 9€ for delivery (7-14days)
Free Delivery for orders over 45
€ (7-14days)
Spend up to 45€, pay 10€ for delivery (7-14days)
Free Delivery for orders over 45
€ (7-14days)
Spend up to 10€, pay 2.5€ for delivery
Spend between 10 and 25€, pay 4.5€ for delivery
Spend over 25€, pay 6€ for delivery
Spend over 30€, get FREE DELIVERY *Limited Offer*
Spend up to 45€, pay 9€ for delivery (7-14days)
Free Delivery for orders over 45
€ (7-14days)
Spend up to 45€, pay 9€ for delivery (7-14days)
Free Delivery for orders over 45
€ (7-14days)
Spend up to 45€, pay 10€ for delivery (7-14days)
Free Delivery for orders over 45
€ (7-14days)
Spend up to 45€, pay 10€ for delivery (7-14days)
Free Delivery for orders over 45
€ (7-14days)
Spend up to 45€, pay 10€ for delivery (7-14days)
Free Delivery for orders over 45
€ (7-14days)
Spend up to 45€, pay 10€ for delivery (7-14days)
Free Delivery for orders over 45
€ (7-14days)
Spend up to 45€, pay 9€ for delivery (7-14days)
Free Delivery for orders over 45
€ (7-14days)