4 Hexagon Photo Tiles
Regular price

€30.00 EUR

Sale price

€30.00 EUR

Unit price

per
Which Print type should I choose?
Shipping and Delivery Info
Step into a world where your cherished memories take flight, defying the rigid constraints of squares and rectangles, and embrace the enchanting geometry of 4 Hexagon Tiles. Here, your photos transform into captivating honeycombs of joy, adorning your walls with a mesmerizing mosaic of life's sweetest moments.
These aren't just ordinary photo tiles; they're whimsical fragments of a honeycomb, each capturing a unique facet of your life's kaleidoscope. Crafted from lightweight yet sturdy foam core, these tiles dance to their own rhythm, inviting you to create captivating arrangements that defy convention.
With Vivid Ink Technology, your photos will burst forth with vibrant hues, as if kissed by a mischievous rainbow. And thanks to the Nano-gel Adhesive fixing, these hexagonal guardians of memories will cling steadfastly to your walls, defying gravity's persistent tug.
As you gaze upon your 4 Hexagon Tiles, let your imagination flutter and twirl, like a butterfly flitting through a field of wildflowers. Relive the laughter that echoed through sun-drenched afternoons, the tears of joy that sparkled like diamonds, the exhilarating adventures that etched themselves onto your soul.
So unleash your inner honeycomb architect and transform your walls into a captivating tapestry of memories. With 4 Hexagon Tiles, your memories will dance and twirl, forever defying the relentless march of time.
Share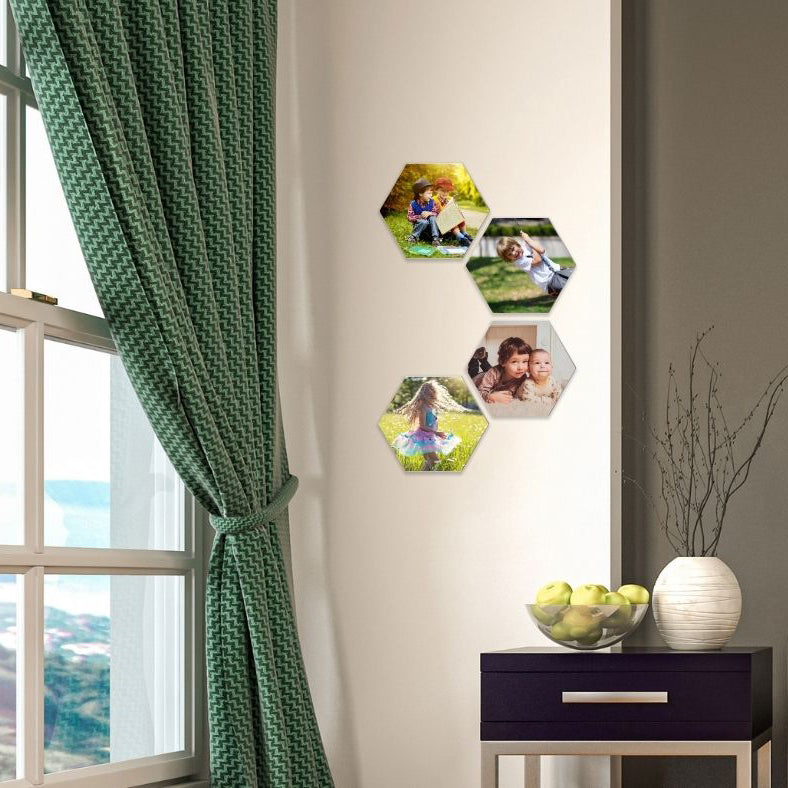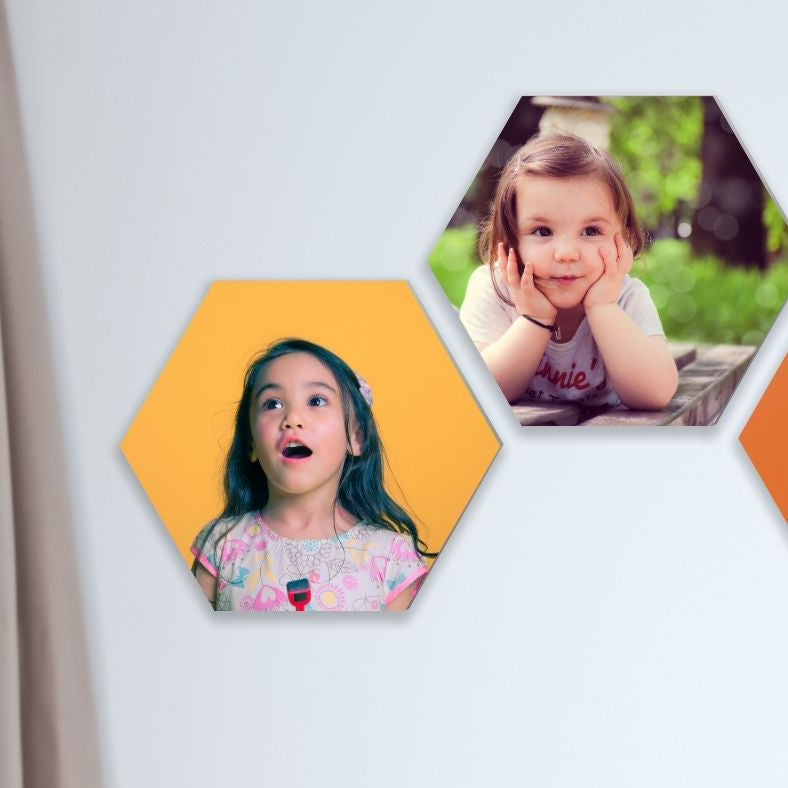 Which Print Type should I choose?
Premium Lustre Paper is a semi-shiny, slightly pebbled-textured photo paper that combines the durability and softness of matte paper with the shine and contrast of glossy paper. It provides a very professional look with excellent color and detail without reflecting too much light.
Advantages of Lustre Paper for Photo Tile Prints
Its semi-reflective surface makes it a versatile paper for many purposes.

Since it doesn't reflect that much light, you can hang it on a wall and see it from different angles without any distracting glare— perfect for galleries and decorative prints!

It provides smooth and accurate skin tones for portraits.

It's more resistant to fingerprints, blemishes, and scratches.

It looks professional.
Disadvantages of Lustre Paper for Photo Prints
It loses a bit of contrast and sharpness due to its pebbled texture.

The colors don't 'pop out' as much as with a glossy finish.
Glossy Photo paper is a popular type of photographic paper with a shiny and smooth coating, giving your prints a reflective, almost glass-like finish. It's the typical photo paper used to print your family photos in a regular lab.
Advantages of Glossy Paper for Photo Tile Prints
It provides crisp, striking images with high contrast.

It delivers vibrant colors, bright highlights, and intense blacks.

It has a smooth surface that preserves and enhances all the details of the photo.
Disadvantages of Glossy Paper for Photo Tile Prints
Can reflect a large amount of light and can be difficult to see from some angles depending on the light source in the room.

It's prone to hold fingerprints and marks.
Glossy photo paper with Lamination combines the Glossy photo paper with a clear glossy lamination film.
Adding lamination to the Glossy photo paper ads UV protection to your photo tile and added resistance to scratches and fingerprints.
Shipping and Delivery
All our products are made in Ireland and shipped from Ireland
Spend up to 45€, pay 7€ for delivery (7-14days)
Free Delivery for orders over 45
€ (7-14days)
Spend up to 45€, pay 9€ for delivery (7-14days)
Free Delivery for orders over 45
€ (7-14days)
Spend up to 45€, pay 10€ for delivery (7-14days)
Free Delivery for orders over 45
€ (7-14days)
Spend up to 45€, pay 10€ for delivery (7-14days)
Free Delivery for orders over 45
€ (7-14days)
Spend up to 45€, pay 9€ for delivery (7-14days)
Free Delivery for orders over 45
€ (7-14days)
Spend up to 45€, pay 9€ for delivery (7-14days)
Free Delivery for orders over 45
€ (7-14days)
Spend up to 45€, pay 10€ for delivery (7-14days)
Free Delivery for orders over 45
€ (7-14days)
Spend up to 10€, pay 2.5€ for delivery
Spend between 10 and 25€, pay 4.5€ for delivery
Spend over 25€, pay 6€ for delivery
Spend over 30€, get FREE DELIVERY *Limited Offer*
Spend up to 45€, pay 9€ for delivery (7-14days)
Free Delivery for orders over 45
€ (7-14days)
Spend up to 45€, pay 9€ for delivery (7-14days)
Free Delivery for orders over 45
€ (7-14days)
Spend up to 45€, pay 10€ for delivery (7-14days)
Free Delivery for orders over 45
€ (7-14days)
Spend up to 45€, pay 10€ for delivery (7-14days)
Free Delivery for orders over 45
€ (7-14days)
Spend up to 45€, pay 10€ for delivery (7-14days)
Free Delivery for orders over 45
€ (7-14days)
Spend up to 45€, pay 10€ for delivery (7-14days)
Free Delivery for orders over 45
€ (7-14days)
Spend up to 45€, pay 9€ for delivery (7-14days)
Free Delivery for orders over 45
€ (7-14days)